From the President
Dear MSHA Membership,

I am deeply honored to serve as your president for the upcoming 2017-2018 year. It is with great pride that I come along side each of you as we serve individuals with communication and swallowing disorders. It will be my privilege to get to know you better over the next year.
As we enter a new "after conference" season, my hope is that we continue to have a thriving, active membership to give voice to underrepresented and vulnerable populations in our state. Let's remember with action our keynote speaker, lobbyist, Noah Webster and engage our local government officials on behalf of individuals with speech, language, hearing, swallowing and cognitive needs.
Communication is indeed a human right and we need everyone, now more than ever, to protect this right. I would like to leave you with 1 more challenge. Will you consider inviting 1 colleague to renew and/or to initiate their MSHA membership? If we can strengthen our MSHA voice, we will be more equipped to face the advocacy challenges that lie ahead. I am confident that as we pull together the collective resources within our state, we will continue to be leaders in best practices for the individuals we serve.
Onward!
Natalie Douglas, Ph.D., CCC-SLP
MSHA President
Back to top
MSHA Conference in Troy a Big Success!
Dear Colleagues and Friends,
Thanks to all of you who recently attended the
MSHA Annual Conference, March 23-25, 2017 at the Detroit Marriott Hotel in Troy, Michigan
. We had over 675 attendees gather from all around our state to hear some great speakers and enjoy meeting in such a pleasant and easy-to-reach location. (
l-r: Emmylou Garza-Prisby and Aaron Hardy-Smith).
All of our classes were full and the evaluations were very positive. Beth Nolan, Nina Reardon-Reeves, Howard Shane and Leora Cherney were very well received. Our other classes with speakers such as Aimee Kotrbra, Scott Yaruss, Janet Deppe, Sue Fleming, Katie Strong, Sandy Glista, Amanda Hopkins, Tony Ysunza, Jeff Searle - the list goes on - all of these wonderful speakers contributed to the outstanding selections offered to our colleagues and students from around Michigan.
Many of you commented that you were glad to be able to complete the SLP license requirement for a class learning about the issue of
Human Trafficking
, and we intend to offer another class next year in Kalamazoo. We are also offering a Thursday evening class on
Pain Management
, which will satisfy the SLP license
Continuous Professional Development
(cpd) requirement. We have another great slate of speakers and topics secured for next year
March 22-24, 2018 at the Radisson Plaza Hotel in downtown Kalamazoo.
See the article below for details.
Thanks to all of you who came to MSHA this year and helped to make it such a memorable experience. Thanks to our sponsors, our exhibitors, SLPs, and our students who enriched the event. We hope to see you next year!
I will end with some quotes from our guest speakers:
From Nina Reardon-Reeves:
Thank you for bringing me to MSHA in 2017! I had such a wonderful time! I wish you great luck in the public schools arena...it's a challenge, but it's where the magic happens!
From Howard Shane:
Thank you - you had a terrific audience!
From Leora Cherney:
It was a wonderful audience and I enjoyed sharing my knowledge about aphasia.
With Warm Regards,
Emmylou Garza-Prisby, M.A., CCC-SLP
Vice President for Professional Development & Education
2017 Conference Chair
Back to top
Congratulations MSHA Student Scholarship Award Winners
MSHA is pleased to congratulate our two $500 Scholarship Awards Recipients for 2017:
Laney Roehl, B
.A.,
is a Graduate Student at Michigan State University. Her B.A. is in Linguistics, from MSU, and she plans to graduate in 2018 with a Master's in Communicative Sciences and Disorders. Laney began her studies in speech-language pathology motivated by her personal experience with her sibling who has a communication impairment. This has fueled her passion and commitment to this field and she has worked with young children through her placement in an Early On program at an ISD. She is also very much interested in research and she currently works in the Brain Systems for Language Lab at MSU where she studies the neural activity in children who stutter. Her outstanding work ethic and academic achievements were clearly cited by her colleagues. She is the
quintessential example of a clinical researcher in the making
, according to one professor. Congratulations Laney and best of luck to you in your future!
J. Whitney Neal, M.A.,
is a Graduate Student at Wayne State University in the Communication Sciences and Disorders Department and she hopes to complete her Ph.D. in December of 2018. She completed her M.A. from Eastern Michigan University. Whitney is an outstanding student who wishes to pursue relevant clinical research especially on the topic of Traumatic Brain Injury (TBI). She hopes to teach and is interested in the topic of neurogenic communication disorders as well as TBI. Whitney was praised as an outstanding writer and one who will collaborate well with faculty and students and is
dedicated to finding new approaches to help individuals with communication impairments.
Both Laney and Whitney are bright stars in our field and we wish them both the very best in their futures. MSHA is proud to support these exemplary graduate students. Our deepest thanks to the
Prentke-Romich Company
for providing these funds. For 50 years the Prentke Romich Company has been leading the way in giving a voice to those who cannot speak for themselves.
"Since our founding in 1966, PRC has paved the way in the development of speech-generating devices (SGDs) and continues to innovate in the field of augmentative and alternative communication" according to Trudi Blair, Consultant Network Operations Coordinator for the company. Prentke-Romich is also a pioneer in the field of language vocabulary development, giving children and adults with communication challenges the ability to participate in life. Trudi added that "we are an employee-owned company since 2004, we are committed fully to our motto,
Everyone deserves a voice
."
Back to top
MSHA Conference Returns to Kalamazoo in 2018
Communication: Access and Advocacy
is our theme for the
2018 MSHA Annual Conference, March 22-24, 2018, at the Radisson Plaza Hotel in Kalamazoo, Michigan
. We are so pleased to return to a favorite location for our members in downtown Kalamazoo! Mark your calendars now and look who we've secured so far:
Michelle Garcia Winner, M.A., CCC-SLP
, Founder and CEO of
Social Thinking
, Santa Clara, California, will present two Short Courses on Friday, March 23, 2018, on
Zooming In On Practical Strategies for Teaching Concrete Learners.
Michelle has been the #1 request from our colleagues to bring to MSHA. We are thrilled she will present at our conference next year!
Nancy Swigert, M.A.,CCC-SLP, ASHA Fellow
, is the Director of Speech-Language Pathology and Respiratory Care at Baptist Health Lexington, Kentucky. She will present two Short Courses on Saturday, March 24, 2018. A popular and sought-after speaker as well, Nancy will address topics such as
Swallowing Disorders in Adults and Children, Motor Speech Disorders
, and
Coding and Reimbursement.
Debjani Mukherjee, Ph.D.
, Associate Professor of Physical Medicine and Rehabilitation and Medical Education at Northwestern University, will present on
Empathy in Rehab,
on Friday, March 23. Dr. Mukherjee's interests include ethical issues in rehabilitation, the cultural contexts of medical decisions, and the impact of emotionally demanding cases on clinical staff. She is a licensed clinical psychologist, clinical ethicist, and Director of the Donnelley Ethics Program at the Shirley Ryan AbilityLab (formerly the Rehabilitation Institute of Chicago).
On Thursday evening we will offer a class on
Pain Management
which will satisfy the continuous professional development (CPD) requirement for the SLP license. We are still negotiating with the speaker, but urge you all to check the MSHA Website as we are currently in the process of securing additional speakers and will keep you updated:
www.michiganspeechhearing.org
so stay tuned. We invite you to share your success, research, and/or treatment strategies with us next year by submitting a MSHA
Call for Paper
. Contact the MSHA office if you have any questions.
We are also planning to offer another class on the topic of
Human Trafficking
which will help those who have not yet met that licensure requirement. Our popular
Student Round Table
classes for Undergraduate and Graduate Students to help with employment and licensure questions, graduate school and CFY issues, and an opportunity to talk to professionals in a variety of work settings will continue.
Returning to Kalamazoo will be our
MSHF Silent Auction
; Exhibitors' Cocktail Party and Raffle; and MSHA 50/50 Raffle.
The MSHA Conference is a great opportunity for CEUs! Contact MSHA for more info at 517/332-5691 or visit our website at:
www.michiganspeechhearing.org
Back to top
Thanks to our Silent Auction Participants!
The Michigan Speech-Language-Hearing Foundation's annual
Silent Auction
was held once again at the
MSHA Annual Conference in Troy, Michigan, March 23-25, 2017,
and it was again a big success.
Thank you to all who either contributed such great auction items, or who bid on them and took home some great stuff!
All proceeds go to the Michigan Speech-Language-Hearing Foundation to support scholarships for students pursuing graduate degrees in audiology and/or speech-language pathology. See the related article in this newsletter on our 2017 MSHF Scholarship Recipients.
Check out the MSHF website at
www.msha-foundation.org
The Michigan Speech-Language-Hearing Foundation was established on March 13, 2006. The foundation is separate from, although affiliated with MSHA. In 2009, the foundation began awarding merit-based scholarships for students pursuing education, at the graduate level, in the field of communication sciences and disorders and/or education of the hearing impaired within Michigan with the intent to practice in Michigan. To date we have distributed $23,000 in scholarships. We award two scholarships, of $350 each, to each state supported university program. This year, we have awarded scholarships to students at 6 universities.
Back to top
Two Awards for Best Student Poster Sessions at MSHA
Congratulations to this year's
Student Poster Session
Award Winners: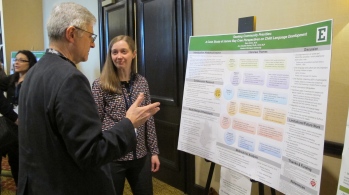 Sara Acton, M.A., Eastern Michigan University,
for her Poster:
Seeking Community Priorities: A Case Study of James Bay Cree Perspectives on Child Language Development.
Sara's co-author was Ana Claudia Harten, Ph.D., CCC-SLP, EMU.
Anna Pogggensee, B.S. and Brittany Barnes, B.A., Western Michigan University
, for their Poster:
An Analysis of Aphasia Education Internet Resources for Spanish Speaking Clients and Families,
co-authored with Robin Pollens, M.S., also of Western Michigan University.
This year thanks again to
Psi Iota Xi
,
Michigan chapters
Eta Sigma, Zeta Theta, Theta Tau,
and
Eta Omicron,
for their support of these awards. These students received a $250 award for outstanding work in their Student Poster Sessions.
Thanks to our Michigan colleague Char Holcomb, and others, for continuing to support our students in this manner. The
Psi Iota Xi
national philanthropic organization is dedicated to helping others, especially in the fields of speech and hearing.
Thanks to all the students who submitted
Posters
for MSHA in 2017. They were varied in topic and excellent in presentation and scope. The time spent during the
Authors Present
portion of the conference was invigorating! You all helped to enrich our conference and allow our members to obtain CEUs and we appreciate all of your efforts!
Back to top
Richard M. Merson, Ph.D., CCC-SLP, Receives MSHA Honors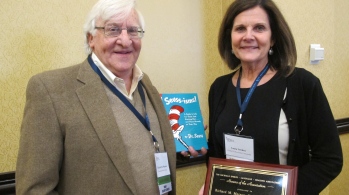 Congratulations to
Richard M. Merson, Ph.D.,CCC-SLP,
Beaumont Health System, for receiving the MSHA
Honors of the Association
Award for 2017. Rick is one of the truly influential speech-language pathology professionals in the state. His work on stuttering and neurogenic communication impairment has commanded great respect from his colleagues and patients. This award – the highest this association can bestow – was presented to him at the Awards Luncheon on Friday, March 24, 2017.
(Pictured above with MSHA President Laura Lenkey)
Rick has devoted more than 35 years as a Speech-Language Pathologist, serving at William Beaumont Hospital since 1989 and contributing to the profession as a teacher, clinician, and pioneer in the area of clinical outcome development having developed the Beaumont Outcome Software System (BOSS), a precursor to the ASHA National Outcomes Measurement System (NOMS). During his tenure there he helped develop a program highly respected for its professional leadership, clinical skills and teaching. His expertise on acquired fluency disorders and other areas of neurogenic communication impairment and his teaching have reflected the most recent research and highest quality of evidence-based treatment. Rick has been an invaluable asset and tireless advocate in obtaining state licensure for SLPs and he has advocated for our profession by lobbying our state legislators on behalf of patients and students.
Rick has served MSHA as
President
in 2011, and was very active on the MSHA Executive Board for 3 years. He has presented many classes at MSHA Conferences over the years. He provided much help and support at our annual conferences serving as a mentor to students and colleagues. Rick also received the MSHA
Distinguished Service Award
in 2005 which acknowledged his contribution for developing, promoting, and maintaining the
Beaumont Stuttering Center,
the
Beaumont Stuttering Center Support Group
, and the
T.W.I.S.T. network: Teens Who Stutter Support Group
. Rick continues to be active in MSHA, and his current contribution is to the
Michigan Speech-Language Hearing Foundation (MSHF)
where he serves on the MSHF Board as Treasurer.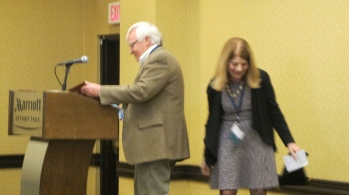 Rick is also known for his humor and wisdom, which was evidenced during his acceptance of this award from his colleague and friend Elaine Ledwon-Robinson. To quote Rick, as he looked out to his colleagues:
If what you do is
free the tongue
From
thoup
to
Soup
Or
Shunshine
to
Sunshine
Then you teach
freedom to speak
in any space
Then you're a Speech Pathology Ace!
If what you do is
free people to hear
Or listen awhile or comprehend a mood
Then its Audiology, Deaf Education, or
Speech Pathology that pays for your food.
If what you do is
free the harsh voice
,
Or fix paralysis or puberphonio too
Then you're a Voice Pathology Dude.
If you
free the blocks of a Person Who Stutters
Or perseverates, or clutters
Then you're a Fluency Specialist who Frees Others.
If what you do is
free the word,
or
language form in a brain injured patient
from the prison of aphasia, dementia or dysarthria
then you're a Freedom Language Fighter-Agent.
If all you do is wallow in your patient's swallow and
free them to eat
and not to live with a PEG or a Port
then you are a Swallowogist of sort.
If all these things you do
free your patients
from silence...pardons them from prisons of aphasia,
agnosia, deafness and dysphonia
You are all agents with good reason.
For the highest Award in this Medal Season.
So therefore by the authority invested in me
by the Great Wizard,
And with all the rights and privileges attendant in our fiefdom...
I crown each of you winners of
Dr. Seuss's Medal of Freedom!
Back to top
In Memoriam: Leo Deal
We are sorry to report that MSHA has lost one of our seminal leaders and a dear friend: Leo V. Deal passed away peacefully, on March 11, 2017 at the Vista Timber Ridge Assisted Living facility. He is survived by Nola, his devoted wife of 64 years (pictured here with Leo); son Eric and daughter Nancy; and 3 grandchildren. Leo graduated from DePauw University in 1951; then spent four years in the Air Force, primarily stationed in Landsburg, Germany. After completing his service, he taught school, eventually earning a Master's degree from Ohio State University. In 1960, Leo moved to East Lansing to pursue a doctorate from Michigan State University in Audiology and Speech Sciences, awarded in 1966. He served as department chair for 12 years and received many awards from both the state and national branches of the Speech & Hearing Association. He was a dedicated Spartan fan and served a term on the MSU Athletic Council. Leo was known for his ebullient personality, his love of music, and his devotion to his family, church, and community. Talented as a pianist, singer and trumpeter, Leo helped put himself through school playing in dance bands in the 1940's and 50's and continued participating in music groups all his life.
Perhaps his most notable achievement was the creation of the department of Audiology and Speech Sciences' overseas study program. Leo developed the program for summer study in London during the early 1980's, led groups of students for nearly 20 years, and established an endowment fund to award scholarships for overseas study to deserving students that continues to support recipients today. Leo was a great communicator, able to establish rapport with people of all ages and cultures. He will be remembered by his students, colleagues, and family for his unswerving integrity and compassion as well as his commitment to education as a bridge to human understanding.
Leo Deal contributed to MSHA in many ways including writing a
History of MSHA
, and he received
MSHA's
Distinguished Service
for this contribution in 2014 at the MSHA Annual Conference in Kalamazoo. He received MSHA
Honors
in 1990, and served as MSHA President in 1972.
A Memorial Service will be held Friday, June 30, 2017, 2:00 p.m. at Grace United Methodist Church, 1900 Boston Blvd, Lansing, MI 48910. In lieu of flowers, contributions may be made to the
Leo V. Deal International Enrichment Fund,
Department of Communicative Sciences and Disorders, College of Communication Arts and Sciences, at Michigan State University. The family is being served by Gorsline Runciman Funeral Homes, East Lansing. Condolences and memories may be shared with the family at
www.greastlansing.com
Back to top
SLP Healthcare Spotlight
As the new VP for SLP Healthcare, I want to take this time to introduce myself. I have been a speech-language pathologist for 13 years with experience in both the public school and medical settings. For the past 6 years I have served as the
Continuing Education Administrator
for MSHA. I am excited to transition into this new role and look fo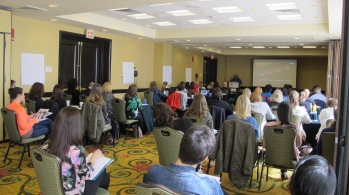 rward to networking with other healthcare based professionals going forward.
One of the goals of the SLP Healthcare Committee is to recognize an
Outstanding Clinician
who goes above and beyond normal work expectations or responsibilities. We ask that you nominate a colleague or an SLP working in healthcare who demonstrates exemplary professionalism toward clients and their families in the area of communication disorders. The deadline for nomination is
August 28, 2017
. Additional information on the
Outstanding Clinician Award
can be found on MSHA's website, link
http://www.michiganspeechhearing.org/health-care_professionals.php
If you are interested in learning more about our committee or have healthcare-based topics of interest you want more information on, please do not hesitate to contact me.
Back to top
Coming Events
Michigan Medicine Dysphagia Conference: Multidisciplinary Management of Complex Dysphagia
05/12/2017- 05/13/2017
This 1.5 day conference is focused on the multidisciplinary approach to management of complex pharyngeal and esophageal dysphagia. Speakers representing the disciplines of Speech-Language Pathology, Laryngology, Nead/Neck Surgery, Gastroenterology and Behavioral Health Psychology will present on contemporary practice with an emphasis on a collaborative approach. The role of high resolution pharyngeal manometry will be highlighted.
There is an outstanding group of Michigan Medicine faculty as well as guest speakers including Joan Chen, M.D., M.S., Michigan Medicine; Molly Knigge, M.S., CCC-SLP, University of Wisconsin; Robbi A. Kupfer, M.D., Michigan Medicine; Timothy McCulloch, M.D., University of Wisconsin; Joseph Murray, Ph.D., CCC-SLP, BCS-S, VA, Ann Arbor; Megan Riehl, PsyD, Michigan Medicine; Margaret Tiner, M.S., CCC-SLP, BCS-S, Michigan Medicine. Full agenda and registration information to follow.
Henry Ford Health System Department of Radiation Oncology and Department of Otolaryngology
05/19/2017
4th Annual Multidisciplinary Head and Neck Cancer Symposium featuring keynote speakers Brian Nussenbaum, M.D. and Allen Chen, M.D.
A well-coordinated multidisciplinary team is essential to optimizing survival and quality of life. The Symposium will focus on laryngeal cancers because of the significant challenges to treat and the many controversial areas. A thorough discussion of early versus late stage treatment paradigms and rehabilitation will be provided.

Executive Functions in Students with Acquired Brain Injury
06/09/2017
Biannual Brainstorming Brain Injury Series is pleased to host The 4th Mark Ylvisaker Honorary Lecture, The 2017 Dr. Mark Ylvisaker Honorary Lecture-Recipient-Dr. Lyn S. Turkstra, Ph.D.
Executive functions (EFs) are a set skills used to achieve goals in everyday life, including communication and academic goals for students at all levels of education. In this workshop, we will generate a working definition of EFs and use this definition to identify practice methods for assessment and intervention. Our focus will be on students with acquired brain injuries (ABI), but there is strong evidence that the same principles apply broadly to students with EF challenge, so results of the workshop should apply to students with developmental communication disorders as well. Web-Conferencing is available!

Hanen SPARK Communication Workshop
06/19/2017- 06/20/2017
Join us in Cadillac, Michigan on June 19-20, 2017 for the SPARK Communication™ workshop! This training is designed specifically for early intervention professionals who work with young children with language delays and their families. This is the perfect opportunity to have your whole team trained to use Hanen strategies. SPARK Communication™ offers research-based responsive interaction strategies that have been shown to accelerate children's language use. You will also learn a coaching framework for helping parents apply these strategies during everyday interactions with their child. Receive a comprehensive set of resources to structure, plan and implement SPARK strategies with families (valued at over $100.00)
Hanen It Takes Two To Talk Workshop
06/21/2017- 06/23/2017
This 3-day workshop is for Speech-Language Pathologists who work with young children with language delays (birth-5 years) and their families. With hands-on interactive training, you'll learn effective, research-based strategies fro involving parents in the early intervention process to ensure the best possible outcomes fro their child. When you take It Takes Two to Talk, you will be certified to lead It Takes Two To Talk-The Hanen Program® for Parents of Children with Language Delay. Space is limited and our workshops fill quickly! This workshop has been approved for 2.2 ASHA CEUs
35th Annual Van Riper Lectures Social Communication and Pragmatics: A Developmental Perspective
10/12/2017- 10/13/2017
Join us at the 35th annual Van Riper Lectures hosted by Western Michigan University Department of Speech, Language and Hearing Sciences. Speakers Carol Westby and Lee Robinson will offer talks focused on the developmental perspective of social communication and pragmatics.

Back to top